As this year comes to an end with a rush of shopping, celebrations, and gatherings of friends and family, it's enough to make anyone's head spin. Despite the hurried nature of this closing month, it is also a time of wonderful traditions and even better food! Each holiday in December has it's own fascinating history and equally impressive list of recipes. We've gathered a recipe from each December holiday so you can celebrate all month long- or even host an all-holiday party with these yummy dishes!
Winter Solstice – December 21st
The Winter Solstice occurs on the shortest day of the year. This marks the peak of our early dark nights and from then on, the days will get longer and the nights shorter until the Summer Solstice on June 21st. The Winter Solstice has been celebrated by pagans for thousands of years, and many of the traditions now associated with Christmas had their roots in solstice celebrations – including the Christmas tree. This holiday is seen as a time for rebirth, and can be celebrated in many ways. For this long, dark night, only a hot mulled cider will fill your heart with warmth and positivity for the next six months. Check out this recipe for Mulled Wine and keep toasty on the first night of winter.
Hanukkah – December 24 – January 1
This holiday, also called the Jewish Festival of Lights, spans for eight days and sports some delicious traditions. Children play dreidel, a game of chance where the winnings include chocolate coins, and adults fry up all kinds of treats like latkes (potato pancakes) and doughnuts. Frying foods in oil is important as Hanukkah celebrates a miracle that happened 2,200 years ago, where just a day's supply of olive oil allowed the menorah in the rededicated Temple in Jerusalem to remain lit for eight days. Doughnut are a tasty and fun way to celebrate this miracle, and this recipe for Sugar and Spice Doughnuts is the perfect way to end a meal (or begin a morning).
Christmas – December 25th
The most widely celebrated holiday of this season is Christmas, which celebrates the day Jesus was born and the night that Santa pops down the chimney and leaves toys for good little girls and boys. The flavors associated with Christmas include bright oranges, tart cranberries and warm spices such as clove, cinnamon, and nutmeg. This recipe for Brussels Sprouts with Balsamic and Cranberries is an excellent side dish for any Christmas dinner and only has five ingredients, which means you can spend less time in the kitchen and more time opening presents or singing carols.
Kwanzaa – December 26 – January 1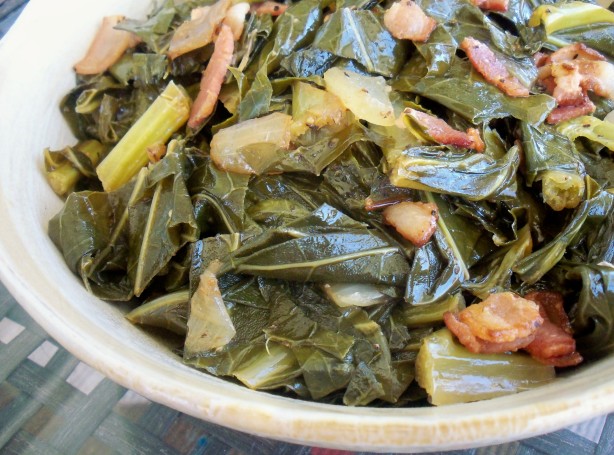 Kwanzaa, a week long celebration held in the United States, has honored universal African heritage and culture since it was first celebrated in 1966. People light a kinara (candle holder with seven candles) and give each other gifts. The holiday greeting is "Joyous Kwanzaa" and each of the seven nights is dedicated to a principle. Some of these princeples are Umoja (Unity), Kujichagulia (Self-Determination), and Ujima (Collective Work and Responsibility). This recipe for Southern Collard Greens is a welcome addition to a holiday meal and perfect for celebrating Kwanzaa.
New Years Eve – December 31
If you're cooking on New Year's Eve, you are most likely throwing a party. Celebrating the end of a year and looking forward to the start of a new one is an exciting time and calls for some exciting cuisine! These Sriracha and Wasabi Deviled Eggs would surely get a crowd riled up! Or for those soirees with classier themes, these Ginger Turkey Meatballs might be more your style.
That covers all the December holidays! What's your favorite holiday dish?
Culinary Services Group, LLC. is a food service management company that strives to provide exceptional dining services that exceed customer expectations. Learn more about CSG by visiting our Facebook or connect with us on LinkedIn.